I am back with another quick one and this time, we will be talking about my experience with WFH while pregnant. Let me take you back to how my WFH experience started (plays soft music in the background).
So, on the 6th of March, 2020, 3 weeks after valentine, I discovered I was pregnant🙈. Girl, that is not what we are talking about today, focus please🙈!!!... So as I was saying, when I realized that I was pregnant, the lockdown hadn't started yet, but there were rumours around about a complete lockdown which I didn't even take serious. If i'm not mistaken, I remember watching the news on the 3rd week of March and they announced a complete shut down of schools and daycares. Ladies and gentlemen, that news was a game changer and long story short, that was the moment my journey with WFH started. To be honest, I was very happy. Although, I was still in my first trimester, but considering the fact that I wont be going through the stress of transit everyday especially because first trimester could be so tiring. That alone made me happy. So, I jumped on the wagon of working from home from the mid of March, all the way down to my delivery. Cool eh 😜?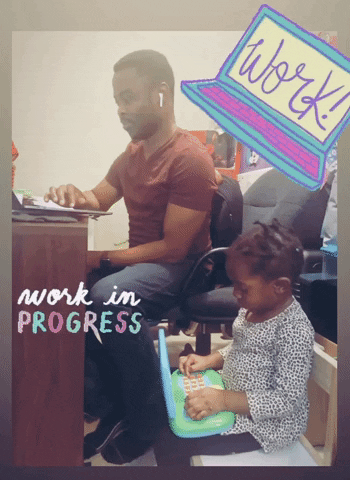 Our first week of #WFH (March 20, 2020)

Anyhoo, today I will be sharing my top 5 benefits of working from home while pregnant with y'all and what I feel about it. So let's dive right into it. Whohoo💃
1. Saving money on transit fare (bus/train) - My first benefit will definitely be saving some dollars on the purchase of monthly ticket. I usually buy the monthly pass which is around &120. The moment the lockdown started, I was so happy I could save that money (Singing: Extra dough in the pocket)
2. You can wake up few minutes before the start your job - Another one for me is waking up few minutes before the start of my work. Prior to the lockdown, I usually just wake up an hour or 45 minutes before work to dress up and prep for the day. Immediately we started working from home, I just wake up 10-15 minutes before I start working to clean up and dress up. To be honest, I loved it😉
3. I didn't need to buy a lot of maternity clothes - I love to dress up a lot so buying few maternity wears was a must for me. I wasn't going to invest in boring maternity clothes but I was ready to buy few good ones that would look like normal day to day clothes and yet maternity (something in the middle, if you know what I mean). However, with working from home, there was actually no need to buy a lot, I only bought few clothes towards the end of my second trimester and that was just enough for me. If I was going to the office, I would have bought a lot since I would be dressing up everyday. Again, I was able to save some money on clothes, which was good since most people don't wear their maternity wears after pregnancy. So I saved some dough on clothing (yaaay)
This was me still rocking one of my favourite gowns (second trimester)😍
4. Oh the comfort - Let's talk about the comfort, which is my favourite. Sometimes, I could work on the couch in the living room or even in the bedroom on my lazy days. This was my favourite😍. I remember during my first trimester, there were a lot of days I felt dizzy during work and needed to just lay my head down. Guess what I do? Your girl would just carry all her work gear and head over to the bedroom. I would take a short nap during my lunch break in the comfort of my bedroom. That was always therapeutic for me and a good energy booster too. I was able to survive my pregnancy better with the comfort of working from home
5. The last one for me will be safety - So with WFH, I was shielded from a lot of things such as not sitting with people in the train or shaking hands with people at work. This went a long way in protecting me from common air borne diseases like flu, cough and all. I loved this part because you don't want to add discomfort or sickness to your pregnancy.
These were my own top 5 benefits of working from home. Inasmuch as I would have loved to dress up daily, take more pictures, chat with my colleagues about my feelings and all. I'm thankful I was able to enjoy some of the benefits of WFH such as comfort and of course saving some dollars.
In conclusion, if i'm being asked for my preference between WFH or going to the office during pregnancy, my honest answer will be to work from home and if given the option of both, I will still choose to WFH four times in a week and maybe just go to the office once a week to show my swollen face (buhahahahaha)
Last picture I took in the office😍

#Memories



That will be all from me today, remember I said in my last article here that we will only be writing short notes and yes, that is what we will be doing for now in order to stay consistent (fingers crossed). I totally enjoyed writing about my experience with WFH while pregnant and I hope you loved reading about it. This will be all from me for now. Remember to stay positive and smile. Until next time...💋