It's been a minute guyz. I miss this space but life & adulting has been the order of the day
(deep sigh).
Anyhoo, I'm here today with something not so fun and maybe sad.
The global pandemic happening right now
(Coronavirus)
has been surreal☹️. Sad to watch and read. I mean, this is global, everybody is feeling the impact wherever they are. So many deaths already, especially in Italy💔. So many changes we have had to adopt & adapt to within a very short period of time. The first week of staying at home just ended and I must say it wasn't the best. My daughter didn't understand what was going on, we had to take turns to babysit while we work from home, we couldn't go out as we use to. It's just a different feeling when you are being forced to stay indoors and restricted from your normal life. To be honest, I wasn't in my best mood but I survived it either ways.
Some of the things we did last week were eating good food, driving around in the evening for some fresh air, I also changed my schedule at work to start a lil earlier so that my husband could also get some work done at noon, we renewed our Netflix, I downloaded more educational games on my Daughter's tablet, she did better with her potty training & she was also able to take a bike ride around the neighborhood yesterday evening with her Dad. We basically just survived each day peeps.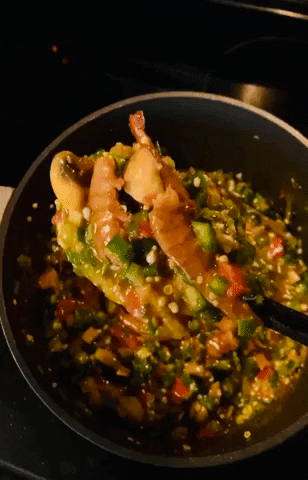 Made this seafood Okro on Friday and totally fell in love with the outcome😍
Not to focus on the negatives, some of the good things I did was calling & checking on my friends & family members
(which I plan to continue)
. If you know me well, I don't do well with phone calls, let me not say it's my pet peeve but I just prefer chats and messages. I decided to call peeps that I haven't heard their voices in a while. I also chatted up with my cousin who is a doctor just to be sure she is safe
(Love you Gbemi❤️)
. Lest I forget, I celebrated my darling husband and sweet sister's birthday as well. Amidst the chaos and uncertainties, there were still some positives, eh?
It's another week y'all & this week, I plan to do better than the last since this stay home/WFH-ish (work from home) may last for a while. Last week was more like an experiment. Today, I woke up early, got dressed and set up my workplace on time. I plan to resume my online course that I suspended with all the news around. I also want to drink more water this week😜. Generally just doing better than last week.
No pressures peeps. If you don't feel motivated, don't beat yourself up. Just take one day at a time. I feel blessed to be surrounded with my husband and daughter at this time. Of course, some days may be tough but you know what, this is just a trying time for everyone and we can only hope & pray that this ends soon.
To end my short note this morning, I will just be sharing few of the thousands memes that I've been seeing around, I hope I've been able to put a smile on your face as we begin a new week. Cheers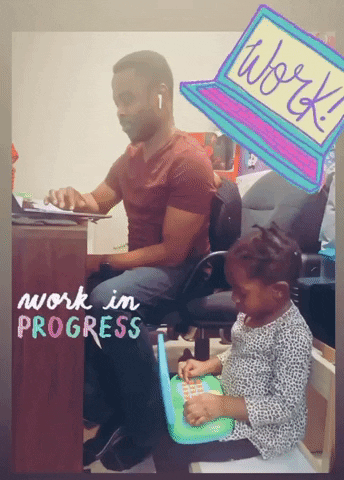 So last week Teni was like "I want to work too"😅, trust Mommy to capture the moment
Somebody shared this in our team chat last week😅
Remember, tough times never last but tough people do. Stay safe peeps.
Until next time
...
💋